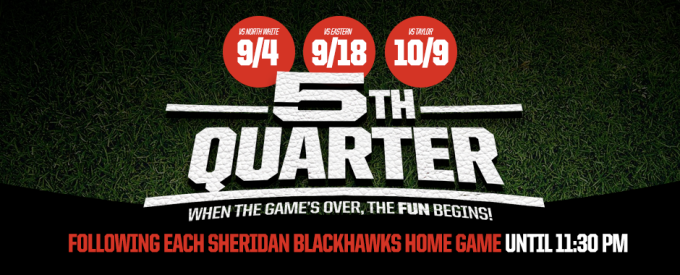 5th Quarter @ FAC Sheridan
Immediately following each Sheridan Blackhawks home game, middle and high school students and their families are invited to a FREE community event at Faith Apostolic Church! 5th Quarter is a post-game after party in a safe, Christian environment, designed for families. We'll have free hot dogs, snacks, and drinks, and plenty of fun activities for everyone!
FAC Youth are encouraged to attend the Blackhawks games, and then make their way to the FAC Sheridan Campus where we'll party until ~11:30 PM.
Blackhawks Home Game Schedule
September 4 vs. North White (7 PM kick-off)
September 18 vs. Eastern (7:30 PM kick-off)
October 9 vs. Taylor (7 PM kick-off)
For more information, or to find out how you can help, contact FAC Sheridan Campus Pastor, Wes Comer.